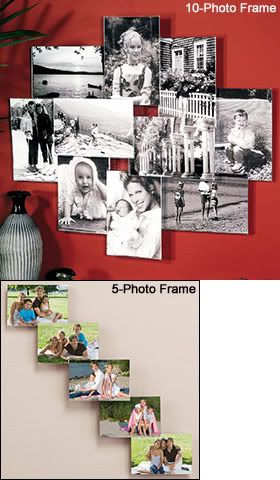 There is no better way to personalize your home than with photos of family, friends and places that you love. One of the most popular ways of showcasing photos these days is through well laid out photo galleries. There are several approaches to this. You can get
Pottery Barn
shelves and line up frames or purchase a premade gallery from
The Perfect Picture Wall Company
. Or if you're on more of a budget you can take the more eclectic approach and collect various frames in a collection.
Another approach to the budget friendly Photo Gallery that we love is use acrylic frames and then layering them to create a contemporary, dimensional collection. These frames can be purchased for a few dollars each at your local
Walgreens
or
Target
We found this idea at the
Lakeside Collection
. You can either buy the smaller scale collage or reproduce this look on a larger scale for a bigger space.